Regenerative Hospitality
Environmental Sustainability Is A Top Priority
In April 2023, Isla Chiquita Glamping, a unique glamping spot located on Isla Jesusita in Paquera, Costa Rica, received the Carbon Neutrality Certification from the Ministry of Environment. This recognition places it at the forefront of accommodations actively reducing emissions to combat climate change and its multi pronged impacts.
From the project's inception, a proactive environmental approach was embraced, integrating heaters and solar panels to curtail electricity consumption and diminish greenhouse gas emissions. This strategic move underscores a pivot towards a Regenerative Tourism model. Rooted in an ambition surpassing mere sustainability, regeneration seeks not just optimal resource management, but also continuous enhancement and recovery. Central to this vision is ecosystem rejuvenation and fostering human prosperity.
Embracing a holistic take on Regenerative Sustainability, Isla Chiquita is committed to creating local employment opportunities, advancing staff through training and empowerment, supporting local vendors, and in the near future, enhancing the education of the area's youth. Ecologically, plans are afoot for mangrove reforestation, poised to invigorate marine biodiversity and consequentially uplift the local fishing communities.
Our goal is to ensure that your visit is meaningful, caring, and positively transformative. Healthy, thriving destinations inspire wellness, connection, and joy. Please join us in this regenerative journey!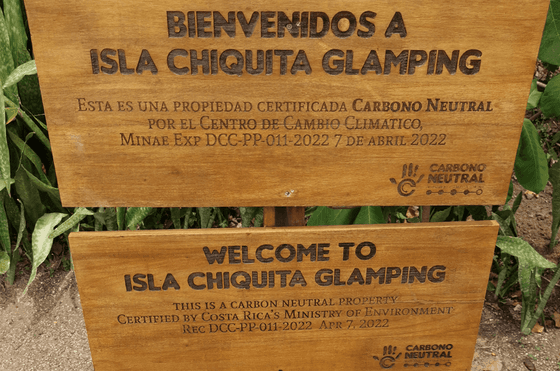 Protecting & Regenerating our Surroundings:
Carbon Neutral & Blue Flag certifications
Mangrove reforestation program
Solar energy panels
Glamping design is eco-friendly
Responsible waste management (reduce, reuse, recycle)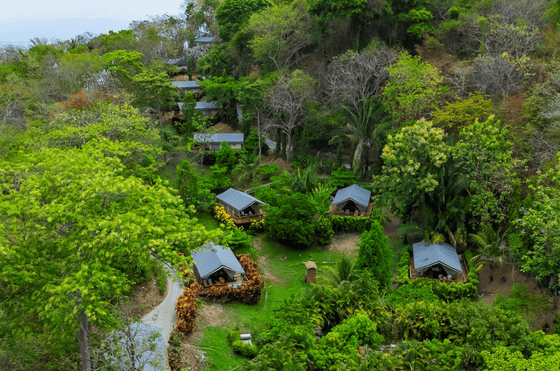 Human Talent & Community:
We support sustainable local seafood & farming micro-enterprises
We favor local employment
Ongoing service quality control & improvement
Permanent professional development initiatives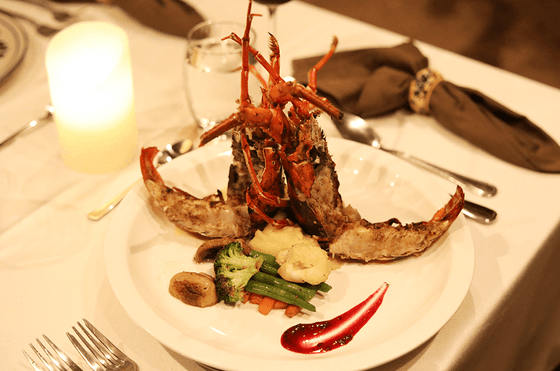 Guests & Suppliers:
We favor the use of premium quality natural products
We give preference to locally-produced fresh products
Ongoing professional development of restaurant and bar staff
Ample opportunities for relaxation activities & direct connection to nature
Pristine natural setting
Our hotel was developed in full harmony with its natural environment.
Construction involved the use of eco-friendly materials and processes, and the island's existing rustic structures were refurbished to house the reception office, Donde Tía Nora Restaurant and Harry's Bar. Our glamping tents are installed on removable deck structures that incur minimal disturbance to their environs.
Water is heated through solar panels; tents are cooled by natural ocean breezes aided by ceiling fans. Dining options highlight regional seafood and produce. Local employment and engagement with our local communities is a priority.
By creating strong bonds with our natural and cultural surroundings, the Isla Chiquita experience connects the traveler to the destination in a healthy, engaging and authentic manner.
The Ecological Blue Flag
The Ecological Blue Flag is a pennant that recognizes local community efforts and their successful attainment of high standards of health, sanitation, and environmental sustainability. The Ecological Blue Flag program is a government-sanctioned program that measures and rewards advances towards Climate Change mitigation, human health, and biodiversity.
Our sunny days are now even brighter!
With the acquisition of 180 solar panels, Isla Chiquita becomes a champion of clean energy. We want your guest experience to be unforgettable, exciting, and planet-friendly. This investment helps us achieve our carbon-neutrality goals, resulting in a yearly 3772 kg reduction in CO2 emissions. This is equivalent to planting 167 trees or not burning 1691 liters of fossil fuel. These high-tech panels complement our solar water heaters, allowing us to further engage the sun to create a green destination of eco-friendly experience.