Welcome to Isla Chiquita Glamping Hotel
Enjoy our Glamping Experience in Costa Rica
Rejuvenate your mind, body and spirit as you forge a meaningful connection to nature at Isla Chiquita Glamping Hotel. Perched on the tiny island of Isla Jesusita in Costa Rica's picturesque Gulf of Nicoya, our hotel is the first and only destination of its kind in the country.
Celebrate the island's artisanal fishing heritage with a delicious seafood meal at Donde Tía Nora Restaurant, or sip a drink at Harry's Bar & Restaurant as you survey the beauty that envelops you. Embark on an adventure by land or sea; bioluminescence expeditions, birdwatching, forest bathing hikes, snorkeling excursions and island hopping are among the engaging experiences we offer. Upon returning to the hotel, relax in our tropical lounging gardens or soothe tired muscles with a massage on our wellness deck.
What is "Glamping"?
"Glamping" (a combination of the words "glamour" and camping") blends the adventure and eco-friendly appeal of a camping holiday with the comforts and amenities of a traditional hotel. Isla Chiquita elevates the glamping experience with premium tent accommodations featuring plush bedding, organic bath products and lounging decks with gorgeous ocean or tropical forest views.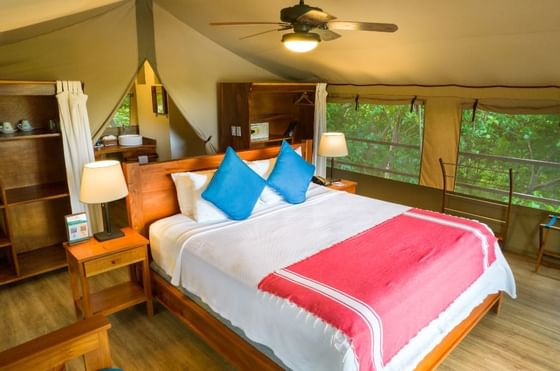 Perfect for families or groups, these tents offer either one king or two comfortable double beds, an en-suite bathroom, a mini refrigerator and a lounging deck with breathtaking ocean or forest views. Our King Tent Suites also include a day bed. Our six Premium View Tents put the spotlight on the Gulf of Nicoya with dazzling views.
Read More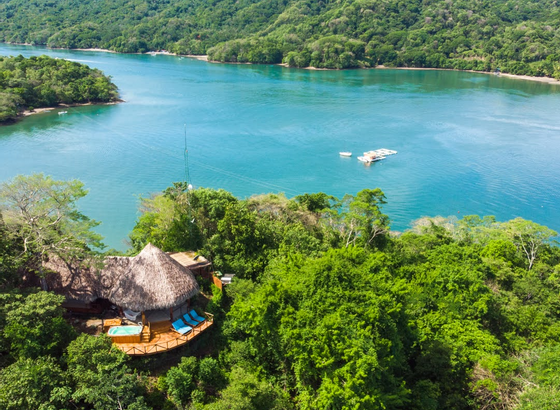 Set at the cusp of the island, this magnificent suite is our most luxurious. It features an unparalleled 360° ocean view and is furnished with a king bed, two day beds, a spacious en-suite bathroom, a Palapa lounging deck and a bubbling outdoor whirlpool.
Read More
The Best of Costa Rica
Seasonal, local seafood, creative cocktails and unmatched views: all of this and more are yours to relish at Donde Tía Nora Restaurant and Harry's Bar & Restaurant, our signature dining and drink destinations.
Unforgettable Adventures
Our thrilling experiences are designed to help you achieve mindful harmony with the world around you. Explore the bounty of the land or discover the wonders of the sea through our unique tours, excursions and adventures.
Discover our Nimbu Spa
Nimbu, the melodic Chorotega word for water, captures Isla Chiquita's feel-good essence. Embedded in a secluded bluff on the island's high grounds, our wellness deck fosters a private wellness retreat. A backdrop of endless ocean complements a selection of massage therapies designed to relax the body, soothe the mind and uplift the spirit.
How to Reach Our Hotel
Isla Chiquita Glamping Hotel is separated from the mainland by a 10-minute boat ride from Paquera, Puntarenas. The hotel offers a floating dock for dry-foot arrivals by yacht or boat, as well as a clearing for helicopters. There is a complimentary round-trip water taxi that serves both our dry land facilities in Punta Cuchillos and the Paquera Ferry arrival platform.
Frequently Asked Questions
Environmental sustainability is of the utmost importance to all of us at Isla Chiquita Glamping Hotel. We're committed to protecting and preserving the beauty of our surroundings, with a host of green-friendly initiatives and programs.
Perfecto.

For my daughter and me, it was one of the best stays in a hotel we have ever had. Everything was perfect. We had the master suite. Terrific location! Thanks again to the entire staff. Very helpful, very, very nice. Muchas gracias.

2023-08-01
¡Agradable experiencia!

La experiencia del alojamiento es agradable porque combina lo "cozy" de una tienda de campaña con la comodidad de que está montada sobre un deck y con un servicio sanitario y ducha bien acondicionados.
El mobiliario cómodo e impecable, el personal es muy amable y servicial, la comida sabrosa. También lo hace especial el que sea en una isla.

2023-09-02
Atención increíble y experiencia única

Pasamos unos días increíbles en Isla Chiquita, la atención de todos sus colaboradores fue IMPECABLE. Además, amé el tour de Bioluminiscencia, fue épico y recomiendo que vivan esto al menos una vez en la vida (el hotel tiene la mejor ubicación para disfrutar de esta actividad, así que 100% recomendado).

2023-09-03
¡Una estadía maravillosa! Isla Chiquita es un paraíso en medio de la selva, un lugar perfecto para descansar, vivir aventuras únicas como la bioluminiscencia, y divertirse en familia. Cuenta con todo lo necesario para pasar unas vacaciones increíbles, desde sus hermosas tiendas de glamping, la playa tranquila, actividades acuáticas como el kayak, el spa con los mejores masajes, la piscina apta para pequeñitos, la deliciosa comida típica de la zona y su staff que tiene una calidez humana que hace sentir como en casa a sus huéspedes. ¡Es una experiencia única en Costa Rica!

2023-10-02
We loved staying at Isla Chiquita! It's such a unique experience to have in Costa Rica, and we can't recommend staying here enough. From the moment the team picks you up with their little boat on the mainland, until the moment you unfortunately have to leave the little island again... it's absolutely amazing.

We loved staying in the luxury tents, waking up to howler monkey visits, and getting a refreshing dip in our little private pool. Special shout out to the amazing team of Isla Chiquita; as they make you feel so at home! We can't wait to return someday.

2023-10-06
What an amazing place - peaceful and secluded.

The food for dinner was amazing and rivaled some of the best restaurants in the world we have eaten. There was also a happy hour! Breakfast was included for us but equally tasty, with a beautiful setting in the garden looking at the sea. The kids enjoyed the small pool and jacuzzi. There were sand toys, SUP boards, kayaks, and a paddleboat all free to borrow, and you could go on your own adventures. We also did the self-guided walk around the island, which was nice, and the bioluminescence night tour, which was wonderful, although the price was slightly on the high side for a 45-minute boat trip for 5 of us, but still definitely amazing to do if you have never experienced it. The staff was very friendly and accommodating We only stayed for two nights but would love to return and stay longer as it's an amazing place to relax and unwind.

2023-10-10
Todo acerca de este viaje es fantástico, empezando por llegar allí. Ya sea que conduzca por toda la Península o tome el ferry en Puntarenas, llegar allí le brindará la oportunidad de ver la belleza de la costa pacífica de Costa Rica.Te recogerán en Paquera y te llevarán en barco a la isla en 10 minutos.

Este es un negocio familiar y le recibirán como en casa. Cada empleado con el que interactuamos fue maravilloso y servicial.
Las tiendas son privadas, limpias y lujosas. No sentirá que le falta ninguna comodidad y, al mismo tiempo, estará inmerso en una naturaleza exuberante.


Tienen uno de los mejores restaurantes en los que hemos estado. Se le servirá comida gourmet, preparada con ingredientes locales y a precios accesibles. ¡Felicitaciones al chef y al equipo del restaurante!


No puedo recomendar este lugar lo suficiente. Quédese allí tanto como pueda y disfrute de tantos tours y servicios como sea posible. No te arrepentirás.

2023-11-22
Isla Chiquita Glamping exceeded our expectations in every way. The staff were incredibly sweet and attentive, making us feel right at home from the moment we arrived. The well-maintained garden provided a stunning backdrop for our stay, and the entire property had excellent WiFi coverage, which was a pleasant surprise for a remote location.

The food was simply outstanding, with fresh-caught fish and locally sourced vegetables prepared to perfection, and the prices were more than fair. The calm and beautiful waters around the island were perfect for kayaking, and the fact that they provided free access to kayaks and sunboards with vests was a huge bonus. Our kids absolutely loved every moment of our stay, and we can't wait to return to Isla Chiquita Glamping. It truly is a hidden gem for a family getaway!

2023-11-22